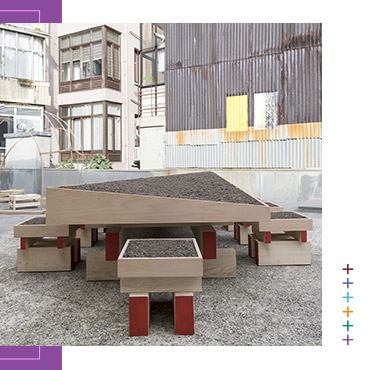 The word Earthable is derived from the verb 'to earth'. It is an occurrence oscillating between a table, an agricultural field, a garden, a plant pot filled with soil loaned from a local farm in Istanbul, and a home to trillions of living bacteria, nematodes, protozoa and kilometres of mycorrhiza. Earthtable serves as a stark reminder of the value of soil in our cities. It belongs to a world where materials occur rather than exist.
Throughout the biennial, Earthable will undergo a process of generation and regeneration through interaction with pollen, the sun and people.
Project Description
Soil consultants: Durukan Dudu, Anadolu Meraları
Soil on loan: aysun the milkmaid – Equinox Farm
Assistant: Seda Baydur
Biography
Aslıhan Demirtaş (Turkey) is an architect and the co-founder of KHORA Office, based in Istanbul. Her practice purposefully crosses territories and boundaries of disciplines in the form of building, landscape and installation projects, exhibitions and art projects, as well as research. She has published articles in Thresholds and WORK, as well as chapters featured in Anytime (MIT Press), In-Transit (Verlag der Bauhaus) and the book Landscapes of Development: The Impact of Modernization Discourses on the Physical Environment of the Eastern Mediterranean (Harvard University Press). Her work has been exhibited at SALT Galata and SALT Ulus, Pratt Manhattan Gallery, the Aronson Gallery in New York, collectorspace in Istanbul and the Sharjah Biennial (2017). Demirtas teaches design studios at Kadir Has University, Faculty of Art and Design, Department of Architecture. She is a recipient of Graham Foundation for Advanced Studies in the Fine Arts Grant (2013).