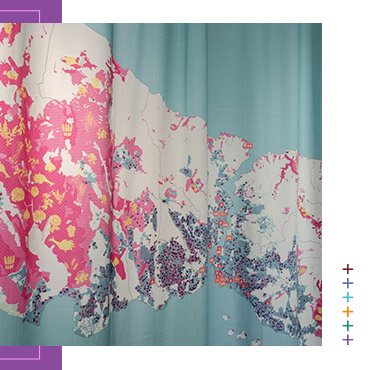 Agros Istanbul is a collaboration with students from the Graduate Program of Architecture and Urban Studies at Kadir Has University, Istanbul, producing a collection of research that maps food production in the city from soil to supermarkets.
AGROS ISTANBUL 
Project Description 
 
Cities wouldn't have been possible without agriculture, but today, food production is more invisible and distanced from urban settings than ever. In Istanbul, 1,600 year-old urban market gardens (known as bostans) still exist, although most have been eradicated due to urban regeneration. The gardens that are left are at the centre of an ongoing argument – and wider conversation – about the preservation of both historic sites and urban agriculture, and contain seeds of optimism around the potential of the latter's long-term presence and necessity. Is there a rural Istanbul hidden inside the urban? 
 
Agros Istanbul includes a map illustrating the nuanced repertoire of differing typologies of urban agriculture and food networks currently existing in Istanbul, a bluefish manga, a venture into home-grown produce during the pandemic through social media, an audio narration about urban nomads, and a reserve library section on the subject of agriculture and fish in Istanbul. 
 
Biennial Program and info available at: https://empathyrevisited.iksv.org/tr/index
  
UrbanAgrIst Team 
Aslıhan Demirtaş 
Seda Baydur 
Onur Değirmenci 
Ouaees Hommous 
Aygül Çınar Sevim 
Gözde Yiğit 
Sinem Yıldız 
Merve Yumuk 
Special thanks to Murat Tülek. 
 
Aslıhan Demirtaş (Turkey) is an architect and the co-founder of KHORA Office, based in Istanbul. Her practice purposefully crosses territories and boundaries of disciplines in the form of building, landscape and installation projects, exhibitions and art projects, as well as research. She has published articles in Thresholds and WORK, as well as chapters featured in Anytime (MIT Press), In-Transit (Verlag der Bauhaus) and the book Landscapes of Development: The Impact of Modernization Discourses on the Physical Environment of the Eastern Mediterranean (Harvard University Press). Her work has been exhibited at SALT Galata and SALT Ulus, Pratt Manhattan Gallery, the Aronson Gallery in New York, collectorspace in Istanbul and the Sharjah Biennial (2017). Demirtas teaches design studios at Kadir Has University, Faculty of Art and Design, Department of Architecture. She is a recipient of Graham Foundation for Advanced Studies in the Fine Arts Grant (2013).