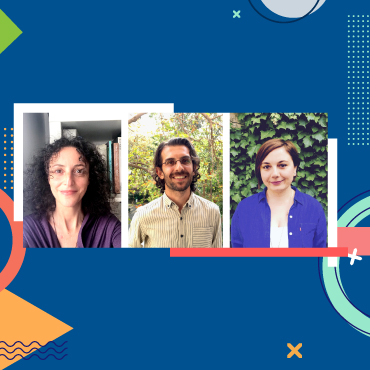 Kadir Has University Core Program (Department of Core Academics) strengthens its academic staff with new scholars. We are delighted and proud to introduce our new colleagues.
Visiting Lecturer Aslı Suner
Aslı Suner has graduated from Yıldız Technical University's School of Architecture in 1996. She continued her studies at the University of Southern California in Los Angeles, obtaining a degree in Master of Architecture in 1998. Upon her graduation, she remained in the US to practice architecture. Between 1998-2006,  she first joined Dworsky Associates for two years, then Cannon Design's Los Angeles office, where she worked  on conceptual design, design development and construction documentation phases of various projects ranging from health to justice, civic to education. In 2006 she joined Foster + Partners' office in Istanbul as a project leader. As part of the international team, she worked on multiple projects and competitions ranging from residential to hospitality and commercial, in variety of geographies including Bodrum, Istanbul, Europe and China. In 2010 she established Designcase Architecture, Sustainability & Planning, an architectural design practice collaborating and working on multiple architectural design projects and competitions.
She obtained a LEED AP certificate in 2002 and an International BREEAM Assessor certificate in 2009. Between 2010-2012 she served as a consultant to ÇEDBIK, Turkey's Green Building Council, working for its technical and certification adaptation committees. In the same period she also contributed to the bimonthly periodical, Ekoyapı, with various essays.
In 2013 she worked as a visiting instructor for the first year design studio on sustainable architecture at Yıldız Technical University. Since 2015 she has been serving as an adjunct faculty in the Art and Design Faculty of Kadir Has University teaching at architectural design studios as well as seminar and elective courses on Building Technologies, Sustainability, Urban Design and Landscape. She is also one of the instructors of an elective course in the KHAS Core Program on Biomimicry.
In 2017 she took part in a workshop on 'Rock & Stone: Material Culture and Culture of Making' as part of an eco-laboratory & residency program, called Nature, Art & Habitat. Since then she's been involved with the program as an ambassador and starting in 2020 she became an active member of its executive committee for its multidisciplinary practice  based in Italy, USA and online. 

Asst. Prof. Doğu Durgun
Asst. Prof. Doğu Durgun received his undergraduate degree from the Department of Economics at Hacettepe University. He got his master degree from the Department of Political Science at Galatasaray University and his Ph.D. from the Department of Political Science at Sabancı University. His master's thesis, which questions the relation between space and identity from an intersectional and queer perspective, was awarded the Dicle Koğacıoğlu Article Award. In his doctoral thesis, he made a comparative analysis of antimilitarism and conscientious objection since the establishment of nation-state in Israel and Turkey. As part of his research, he spent eight months as a visiting researcher in the Department of Middle East Studies at Ben Gurion University of the Negev. 
Alongside his theoretical engagements, Dr. Durgun has substantial experience in the civil society. He worked as a supervisor in the Protection Program for Urban Refugees, which was funded by the United Nations High Commissioner for Refugees. He has been involved in several projects at Istanbul Policy Center of Sabancı University, and he taught courses on globalization, modern Turkey, modern Europe, and the history of civilization at the Department of Humanities and Social Sciences at Işık University. Durgun published articles and book chapters in several national and international journals such as Geopolitics, Citizenship Studies and Critical Military Studies. His areas of interest are critical security studies, gender/queer studies, social movements, citizenship and migration. 
Visiting Scholar Dr. Özlem Aslan
Dr. Aslan completed her Ph.D. in June 2019 at the University of Toronto's Department of Political Science with a joint degree in Women and Gender Studies. Her doctoral project analyzes struggles against hydropower projects in Turkey in the early 2000s. The project combines critical spatial theory and feminist phenomenology to analyze the corporeal as well as intersubjective and interspecies aspects of place.
After teaching at Koç and Bogaziçi University in 2019-2020, she  conducted research on gender equality in environmental civil society organizations, the politics of climate hazards in Turkey and environmental displacements in Turkey in collaboration with Sabancı University and Center for Spatial Justice. As a scholar, Özlem Aslan is invested in public-facing scholarship. Parallel with this mission, she co-founded the online feminist academic/activist journal, Kültür ve Siyasette Feminist Yaklaşımlar, which has been a prominent reference for feminist thought and activism in Turkey since 2006.