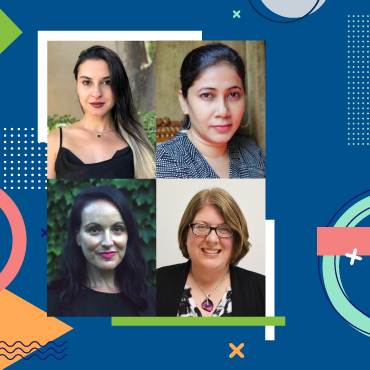 Kadir Has University School of Foreign Languages strengthens its academic staff with new instructors.
Zehra Karslı, Instructor
Zehra Karslı graduated from METU Foreign Language Education, English Language Teaching in 2014. Following her graduation, she has worked as an Academic Instructor at UTAA and Atılım University. As a part of her academic studies, she finished her Master's degree in English Literature at METU in 2019. Currently, she is a PhD student at the same department, continuing with her academic studies.
Farzana Kazem, Instructor
After completing her Masters's in English, Farzana grew a passion for teaching languages. She completed an MA in TESOL from Canterbury Christ Church University, UK, and later completed other Cambridge teaching qualifications such as CELTA, CELTYL, and DELTA.
Before becoming a faculty member at KHAS School of Foreign Languages, Farzana worked at the University of Nottingham Malaysia. She taught various core and elective modules at the Foundation level and conducted some voluntary teaching at the undergraduate level with the School of Education. She also served at British Council Bangladesh and Kuala Lumpur for about nine years as an ESL instructor. She taught a variety of courses ranging from General English to exam preparation. She is keen to develop her career further in teacher training. 
Farzana also holds the status of IELTS examiner with Cambridge and Lay examiner with Royal College of Surgeons, London.
Dr. Amanda L. G. Montes, Fulbright Scholar
Dr. Amanda L. G. Montes is an Assistant Professor in the Bilingual-Bicultural Education program at Northeastern Illinois University in Chicago, USA. She holds a Ph.D. in Applied Linguistics from Arizona State University. 
Her areas of interest include examining bilingual educators from culturally and linguistically diverse backgrounds, language attitudes, culturally responsive teaching, liberatory pedagogy, and arts integration in bilingual education settings. 
She has worked in the field of Bilingual Education for over 20 years in various settings, including elementary education, higher education, and with bilingual educators providing professional development and technical assistance to school districts. Though she has spent most of her life in the United States—mainly in Boston, she spent her early years in Brazil, where her mother's side of the family is from, and where she has spent a great deal of time over the years. 
She prides herself in bringing her own cross-cultural experiences and personal introspection to her understandings of how to best inform her practice as a bilingual educator, which she believes is one of the tenets of good pedagogy in multilingual/plurilingual and multicultural spaces. 
Dr. Stephanie Rummel, Instuctor
Dr. Stephanie Rummel earned her MA TESOL from the Indiana University of Pennsylvania in the USA and her PhD in Applied Linguistics from Auckland University of Technology in New Zealand. 
Since completing her PhD, she has been working for the Diagnostic English Language Needs Assessment (DELNA) program at the University of Auckland. She served as a member of the organizing committee for the Language Testing Research Colloquium held at the University of Auckland in 2018.
Her research interests include providing effective feedback on students' writing, diagnostic assessment, and the impact of beliefs on students' learning. She has presented several papers on these subjects at international conferences and also published several articles.
.