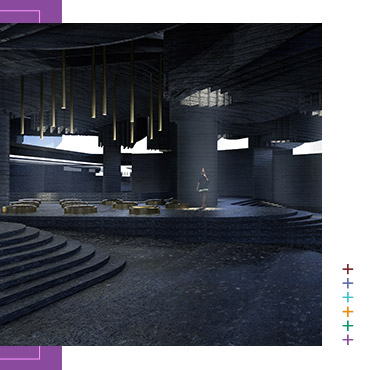 Atahan Sevdi, our graduate of 2017 from the Department of Architecture, who's also a Master's student at DIA Dessau Hochschule Anhalt has been awarded first place for the Lars Lerup Awards for his work on the Winery Project in South Africa which, was conducted under the supervision of Prof. Ralf Niebergall.
The Project video is available at: https://vimeo.com/445329091
We congratulate our alumnus.  
Lars Lerup Prize 
The Lars Lerup prize is annually awarded for the best first year graduate level design projects. Out of 11 shortlisted projects, the best three selected by the jury. 

Pour: A grotto for Wine - Architectural Report 
The site has a slope from one corner to another with an 18m height difference. This became the starting point of the project. 
The goal is to keep the fertile soil as much as I can and provide maximum efficiency for the winery. Therefore, a circular piece of ground is cut and lifted above. All other functions are located under that thick soil piece. 
This soil works as a la n d scape pot that includes vineyard on top and this rooftop use helps to keep all land as a vineyard. This roof has an organic shape that is connected to the main ground with its thick columns which are abstractions of roots. 
The circular shape of the roof works as a vista terrace t h at provides an infinite view of the beautiful nat¬ural l and scape of Kayamandi that includes beautiful vineyards and mountains. Moreover, the roof in¬cludes puddles in between the vineyards, and this supports the joyful feeling of the walking experience on the rooftop. 
Architectural tectonics: the organic shape of the roof and the plan organizations, provide a grotto feeling in the interior atmosphere. This dark space is illuminated with skylights that are located in the roof and close to the interior as light wells. 
The water element that wraps around the circle supports this grotto feeling. At the winery entrance, the pool which welcomes the visitors continues to the interior as well. The pool at the hospitality area becomes a lively element which is illuminated with sunlight. This is made with a shift movement on the roof. This move creates a shelter above the entrance while creates an open air space for the hotel rooms at the back. 
The glass box that dives into the building from the rooftop located in between the production area and the hospitality area. It serves as an experience volume dedicated to wine. It's clear and shiny facade takes attention from all around the building. It includes a wine tasting room, wine shop, and fine-dining restaurant in it.