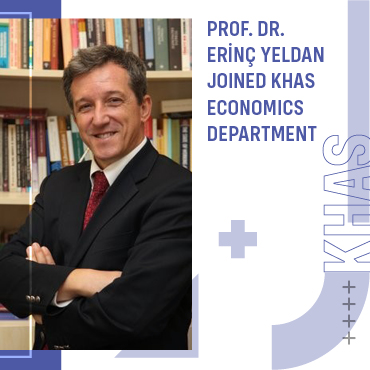 Kadir Has University Economics Department continues to grow stronger with Prof. Dr. Erinç Yeldan joining the academic staff. We are very honoured and pleased to introduce our new colleague to you.
Prof. Dr. Yeldan received his Ph.D. from University of Minnesota, USA, and joined the Department of Economics at Bilkent in 1988. During 1994/95 he was a visiting scholar at the University of Minnesota where he taught Applied General Equilibrium Analysis. During 2007/2008 he was a Fulbright scholar at University of Massachusetts, Amherst and at Amherst College. Dr. Yeldan's recent work focuses on development macroeconomics, vulnerability and fragmentation of labor markets, de-industrialization, and economics of climate change, and on empirical, dynamic general equilibrium models. Over these subjects Professor Yeldan has contributed over fifty refereed articles, written eight books, and participated in numerous project reports and briefings. Over thirty years of his professional experience as an educator, he had directed more than twenty master theses and supervised six doctoral dissertations.
He is also one of the executive directors of the International Development Economics Associates (IDEAs), New Delhi; and serves as a member of the International Resource Panel of the UN Environment Programme (UNEP).