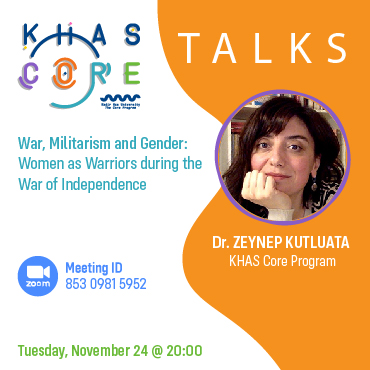 Dr. Zeynep KUTLUATA
KHAS Core Program
24 November 2020, 20.00
War, Militarism and Gender: Women as Warriors during the War of Independence
War periods are gendered processes; certain policies are developed to reconstitute femininity and masculinity in the service of nationalization and militarization. The literature in the field not only highlights the experiences of women during wars but also draws attention to how gender is instrumentalized in the service of war effort. Fighting is usually considered as an "exceptional" war experience for women, this is also the case for women who were represented as "warriors" during the War of Independence. Figures such as Ayşe Hanım, Asker Samime Hanım, Nazife Kadın, Tayyar Rahmiye, Zeynep Hanım, Gördesli Makbule, Hatice Hanım, Erkek Halime and Kara Fatma(s) are known to be the "heroines" of the War of Independence.
This talk will focus on the representation of woman warriors of the War of Independence with a specific focus on the genre of Kara Fatma(s). Among the female warrior figures of the War of Independence, Kara Fatma(s) historically constitute a genre that can be traced back to the Ottoman period; there are references to Kara Fatma(s) of the Crimean War and of the Ottoman-Russian War of 1877-1878.